Paisley Ball Ornament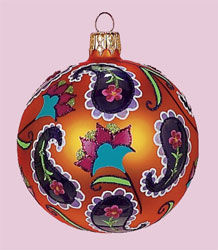 Paisley Ball Ornament

Price: $50.50
Dimensions: 3" diameter

code: v-25064ac

---
What inspired me...
to pick this paisley ball was the use of paisley in Russian tapestry. I was introduced to paisley when I was a child. I noted paisley used in Russian dolls and dresses old Russian women would wear in my neighborhood. When I was a little girl I remember having a favorite dress in red paisley design. I like the orange that contrasts with the purple and other colors like blue and pink crafted by European glass makers. These are hand blown and painted by skilled artisans, I love this beautiful design!
Yet the ornament has a contemporary modern feel to it. And certainly keeping up with the spirit of "unique" it was something that reflects Geri's Specialty Gifts. And that's a timelessness to unique. Being unique is what's important when it come to selecting our gifts and that's what I look for. The paisley ball ornament I picked out as a unique gift find that can be given as an heirloom and also added to your treasured Christmas ornaments.
What made me pick Tannenbaum Treasures?
Well personally I don't think they are the most spectacular Christmas ornaments I've ever seen. But they are different and that's what I like about them. If I were to think about truly spectacular looking ornaments I would think of something overly sparkly like crystal Christmas ornaments but having all the ornaments on the tree that way will not look right.
And it would take away from the home like feeling of the Christmas tree. You know spectacular isn't the key to great Christmas ornaments. The key to Christmas ornaments and the reason why I use Tannebaum treasures is because their ornaments are timeless. Just enough sparkle to make it romantic; and color to enchant the eyes of the kids and the kids at heart. No need for over commercialization. These ornaments are made for family, friends, everybody to enjoy!
These Christmas ornaments are hand blown glass made in Europe and painted by hand. In limited quantities, so make your purchases today. Intricately and painstakingly crafted so therefore one of a kind and to be made an heirloom for many a Christmas to come.
---
Unique Gifts

>
Geri's Online Store

>
glass x-mas ornaments
> paisley ornament
---