Your BBQ Pits Ideas Quick &
In a Hurry.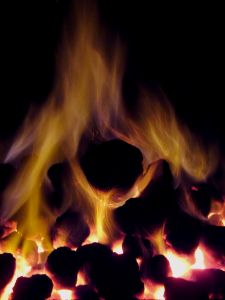 BBQ Pits ideas for everybody who wants a bbq pit and in a hurry. These ideas are for those who want the taste of bbq but not the extensive contracting work of installing a whole new pit. In this article we will mention portable pits, pits you can quickly build, other fire pits and great ideas, accessories, and other bbq gifts.
Now you want a quick fix to your BBQ dilemma so presented here are...
---
Home Page

>
Unique Holiday Gift Ideas
> Ideas for bbq pits.
---
Some Pits You May or May Not Have In Mind.
Special note: Before you take on such a project it is suggested that you have somebody with you who knows what they are doing. Follow all instructions. After all you are messing with fire and flammable materials. Make sure the pit is build properly so theirs no dangerous flare ups. Also have a fire extinguisher at all times. They have extinguishers especially made for bbq pits.
---
| | |
| --- | --- |
| You can go on the internet & quickly locate a local store that would have a portable fire pit available. | Grande Chef portable Chill and Grills another example. |
---
---
& this...

A little bigger though but big enough for more food & toasting marshmallows

Lastly: ...an easy to handle 'get it! "handle".' BBQ pit that's easy to clean.
But what if you can't find a portable? What do you do? Using your ingenuity you could build a quick bbq pit. Do you have some construction materials left for your back yard? Some bricks or stones? A spare grill rack? Charcoal or wood chips? Even an ordinary tin can and aluminum foil can be building materials for a potable fire pit. You will see in the next section easy quick ideas for your spur of the moment bbq to become a success.
---
Portable BBQ fire pits you make yourself!
| | |
| --- | --- |
| Using a terra cotta pot as a bbq pit. | Build a BBQ pit out of discarded bricks no brick layering with cement needed as seen above! Clearer instructions: Four pillars to make the legs, wood board, top covered in brick, layer around to make a ditch on top a grill. Done |
---
| | |
| --- | --- |
| | *Yay for this! A can cut out, tin foil, some charcoal, a grill rack, Done. BBQ pits ideas for everyone in any budget. |
---
On Pinterest.com a unique collection I've compiled of other fire pits, grills and accessories to make your 'last minute' last weeks of summer cookouts everyone's favorite.
---
Home Page > Unique Holiday Gift Ideas > Ideas for bbq pits.
---