Happy Columbus day to all!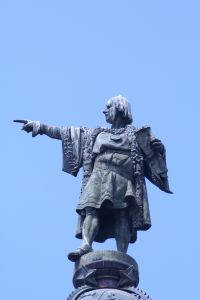 I'm sitting here watching the Columbus day parade with my family. It's a tradition in our house that where theirs any parade on a special day we watch it. The Caribbean day Parade, the labor day parade, Dominican day parade, and others...
Another tradition that's very popular which is very easy is to have green, white & red carnations to symbolize the Italian flag – making home made green carnations people have been using green food dye & cutting the bottom of white carnations soaking the flowers for 24 hours.
Also when Italian cooking having a medley reminding of the Italian flag of vegetables by chopping red & green peppers & white onion with sausage on Italian sesame see roll, soo delicious! The other day downtown at Old St. Pat's on the lower east side I visited the San Genaro festival, lot's of great food & stuff of course.
I prefer the desserts myself. But not too much Panettone for myself! People particularly take pride of their Italian food heritage on Columbus Day. My father worked for an Italian guy who taught him all about Italian cooking & visit some of the mom & pop Italian shops in the Bronx with him when going shopping.
For myself I tend to like making Italian food from scratch like thin whole wheat spaghetti with homemade turkey meatballs with tomato sauce, predictable,but still my favorite. Here is a nice site all about Italian food decor and scenery. Enjoy! Or Monja! to ya all. 'Italiani a Fiji' has a sophisticated sort of contemporary take in Italian cooking, decor and more. Even venue space on site.
Written by: Stephanie Thomas - 5:10pm
October 10, 2011
© Geri's Specialty Gifts
[Note: Appeared as original bloglet for the unique gifts blog spot on the date prescribed above. The purpose is to keep original content that's an contributing theme to the vision of unique gift as season, holiday & special occasion offerings for everyone.]
---
Home Page

>
The Blog Spot
> Christopher Columbus
---