Good Friday Gifts for Everyone!

Gift ideas for Good Friday can make great opportunities for things to be remembered. Especially giving out great food gifts! Giving unique gifts whether tangible or intangible to those close to you are especially important. These will be mostly food gifts but we will touch base on other gifts to have.
That's all you do.  Eat & Go to Church & Worship. Or in this order, Go to church, Worship: maybe give out some presents to commemorate the Lord's scacifice on the Cross. Go home, Go to work, (Cook – if you have to), & Eat. Eat the rest of the day.
Watch T.V… Now what to do with the left over Hot Cross Buns for the next day? That's the unique food gift we will be focusing on today.
Here are some great unique gift ideas.

Gifts to give out:

Before we get to the food. List of what to give out on this Holy day.
Gifts to Give:
Fish & Cross charm bracelets.
Intricately Embossed decorated cards w/ scripture in the back or inspirational poems.
Carved stones that say 'Love', 'Peace' or 'Joy' or that has a scripture verse carved on it.
Gift ideas for this Holy occasion are great ways for people to be grateful for Christ Sacrifice Today.
Food for Good Friday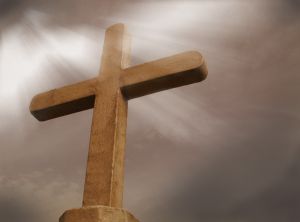 It should be all about food this Good Friday. Hay it's all about food anyway. Besides, traditional fairs like fish (which represents Christ), Potatoes & other stuff aren't the only things people eat.
Things you can eat on Good Friday from Roman Catholic traditions for example: cold blooded Animals? Fish & Reptiles? Dairy, eggs, fats. People have gone vegan or vegetarian for Good Friday. There are some delicious vegetarian Good Friday dishes shown on my pinterest page.
What Quick Good Friday Recipe should I think of?:
Ooh! My recipes for Salmon Croquets –
You will need:
2 lbs boiled potatoes diced
3/4 cup Italian breadcrumbs (you can use plain if you like.)
3 cloves of garlic minced
Boiled the potatoes until tender, let cool, diced potatoes and put into the mixing bowl. Open the 2 cans of Pink Salmon and put into the bowl. Splash of Lemon into the mix. Add the Italian breadcrumbs. Add the Onions. Add the fresh Garlic. All into the bowl we go. Salt & pepper to taste. Mix it all together. Add 2 eggs to keep the mixture together while frying. Make into patties (any size you want, I sometimes use a medium spoon to measure). Pan Fry in oil.
With the Salmon Croquet's I would have it with a regular salad, with my favorite Dressing.
What to do with all those left over cross buns?

Here's some I made up that you can use for an afternoon of watching sports with friends & loved ones. Hot cross bun burger sliders. Naturally, savory cross buns would work, but the traditional sweet can work too. Many found with sweet buns 'beef patty' (like in White Castle) rather than hamburger would work best.
No need for much more seasoning on the burger w/ cheese works. Or Bacon w/ cheese goes well with the fruit of hot cross buns. As I said think of the best meat & seasoning that you'll love.
I think this is an interesting twist on burger sliders. What MORE to do with all those left over cross buns? Here's what people have done with their left over hot cross buns.
Potential ideas for savory hot cross bun recipes:

Garlic Hot Cross buns. Garlic butter on the cross on a savory bun (cheese?)Or Roasted Mushrooms.
A Dish for left over Hot cross buns:

A Restaurant Type Dish: Sirloin Burger on Garlic Hot cross buns w/ Bitter Mixed Spring Herb salad w/dressing of your choice (I think a pomegranate vinaigrette is good) (wine of your choice)
I like bitter spring herbs. It's like having a 'Traditional' steak with butter & mushrooms. No really! Visualize this. Like having traditional sirloin streak w/ Gourmet Garlic butter, mushrooms, and parsley. I can add the mushrooms because 'I love extras', from a gourmet restaurant.
Follow Stephanie Thomas Unique Good Friday on Pinterest
---
Home Page

>
Unique Gifts All Year Round
>
Mostly About Cross Buns
---