Cinco de Mayo gifts I found fun & awesome traditional Mexican flair.
The reason we have Cinco de Mayo gifts. A Brief history of El Día de la Batalla de Puebla.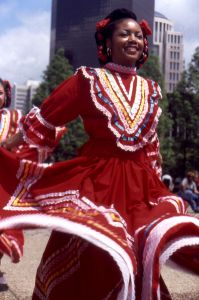 Or translated 'The day of the battle of Puebla. One of Cinco de mayo gifts, freedom, being the best reason for this festive day. The French invaded the state of Puebla Mexico in late 1861. Though the Mexican army was out weighed nearly 2 to 1 by the then French army considered "the premier army on the world" the Mexicans managed a decisively crushing victory over their foe. Never has it been since the battle of Puebla has no country in the Americas been invaded by a European military force.
Cinco de Mayo (Spanish for: The Fifth of May.) is about the celebration of Mexican culture & life. Particularly through cultural celebrations, parties, cinco de mayo gifts & favors. In 2005 it became an official American holiday celebrating the Mexican heritage.
Compiling on pinterest (I love my pinterest boards!) what great things I like as unique cinco de mayo gifts I found some ideas that, though traditional, I thought very festive. Instead of the usual loud, tacky cinco de mayo party favors, the stale tortilla chips & dusty jars of unused salsa from last year or the usual beverages. I'm going for fresh, beautiful a warm looking invitation to invite everyone to eat, drink as an experience. To enjoy food to savor the beverage. To take in the atmosphere of the festive decorations & joy of cinco de mayo.
---
Home Page

>

Unique Gifts All Year Round
>
Fifth of May
Home Page

>

Gift Blog
>
El Día de la Batalla de Puebla
---
Some Cinco de Mayo gifts that's sure to buzz!
Create a food platter. Buy on of those 'clear' decorative or crystal etched style disposible platters with a cover & give some 'unique' foods that will be great. Cinco de Mayo Jello shots, Baked Advocado fries, Margarita popscicles or for the kids or the kids at heart Sombero cookies.
Some quick party favors that are colorful and bright.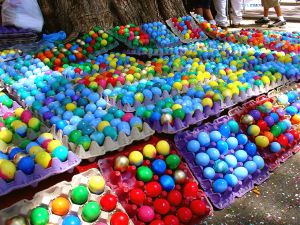 But it's mostly food on cinco de mayo! Not so The favors are a gift in its self. Some to decorate your favorite drink others for fun: Some examples would be these mini flowers for straws can also be for the hair or the lapel. Confetti eggs are always fun. Besides of course the traditional sombrero, or maracas a unique twist could be a traditional sombrero that glows in the dark, or maracas that you can shake-shake-shake to the music and breaks like Piñata with fanatic goodies come out of it.
What do Mexicans have on cinco de mayo? Religious gifts or gifts of folk figures in most everything like baskets, bottles pottery. I would think also souvenir gifts commemorating the victory at Puebla, posters, decorative cigarette lighters shaped like guns. Decorative Mexican food containers made to hold great Mexican food wouldn't hurt as a cino de mayo gift.
Other ways to think unique cinco de mayo...
I love these wonderful recipes, D.I.Y.'s, crafts, fun for kids and adults who act like kids. These are unique cinco de mayo ideas for you great party bash. The uncharacteristic or unexpected can be part of this cinco de mayo celebration of yours. I would love to one day try Mexican hot chocolate I heard its quite an experience. And spicy!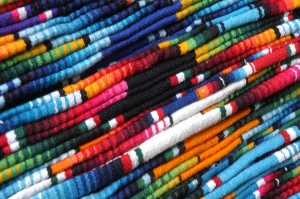 ---
Home Page

>

Unique Gifts All Year Round
>
Fifth of May
Home Page

>

Gift Blog
>
El Día de la Batalla de Puebla
---
Stephanie Thomas - Geri's Specialty Gifts© May 5, 2013 - 1:10am