Heelys roller shoes safety issues and alternatives...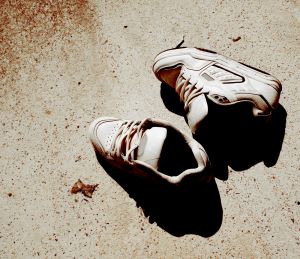 I remember when heelys roller shoes first came out, right about the time I was in High School. They were popular for middle school kids, but soon became popular with adults too. However their were issues with parents and doctors about safety with these shoes.
They are a lot of fun! They come in different colors like razor striped orange and black I see some boys wear to purple  & black with little stripes of pink some girls wear, vice versa , and all other fun race-able colors!
I really liked the way they look. Though they are not the Punky Brewster sneakers I've loved as a middle school student  heely roller shoes really remind me of good ole' days. Even a fellow student of mine had his own pear!
However as seen recently in news reports doctors worry the constant abrupt stopping when wearing these shoes can cause knee damage and knee tendon problems. 
---
Are their alternatives to Heelys Roller Shoes you'll really like?
Here in 2014 I just came across a page about this invention called Rocketskates. They said these Rocket skates are heely skates on steroids.
I was researching on what article to write next and heely skates was a viable subject then on my way to researching what I should write about heely's I came across these Rocketskates. They looked like these are a safer alternative.  but when I visited their website I find out that these Rocketskates have a motor on it. A MOTOR? How can that be safe? But I thought, after all these skates are for adults, those in their teens and up. 
The rocket skates I think are very cool, futuristic, bold and a way to travel, like traveling on a moped, except no handle bars, only you to keep yourself balanced. Don't worry the creator of Rocketskates - Peter Treadway says these Rocketskates have a safety mechanism that keep a person crashing into a wall or lamp post.
Exciting! I think! If you want to know more details about these Rocketskates visit Peter Treadway's page at the Kickstarter website.
Personally I think the design for Rocketskates looks safer than heelys. The wheels are bigger, easier balance and can be detached from the shoe. I think they would be a viable safety alternative to heelys if they create a Rocketskate without the accelerating motor.
---
Some safety tips.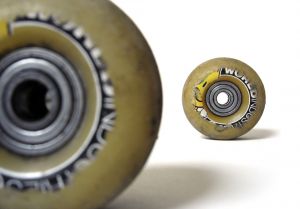 It is suggestes by physical therepists that when stopping on heely's of any kind to lean on the back of the heels to slow down and make a stop rather than the front of the foot to minimize knee damage.  
Now that you've looked at the Rocket shoes if you are a parent reading with your child your child maybe begging for the new motor powered Rocketskates; and you as the parent may think, 'Maybe the heelys roller shoes are a better alternative after all!'
If an adult, like myself, I'm thinking... 'I'm gong to need to bush up on my skating lessons' 'and maybe review the street maps'. But I don't care how they made the streets more hospitable for cyclists in NYC the drivers on the road still would think of me as road bait!
The point is 'safety' whether on side walks or crossing the roads. Always obey street signs and traffic officers especially when having fun. One might say: 'Ahh what a bummer' but, I promise you at the end you and everyone around you will have the most fun.
Home Page

>

Unique GIfts Blog
> Heelys Roller Shoe Safety
Home

>

Unique Gift Ideas
> Heely Shoe Safety
---
---
Home - Unique Gifts Blog - Gift Ideas - Fun Celebrations - Shops - Birthdays - Weddings - Anniversary - Cats - Dogs - Home Decor - Garden Gifts - Baby Gifts - Gifts for Kids - Christmas - $-Savers - Geri's Specialty Gifts  - Contact Us! -  About Us