School year kids backpacks & Other buys for schools.
School days are in & so are the bright and colorful kids backpacks & fun bright colored school supplies kids pick to take with them. Yes, activity is always important, though summer vacation is fun, kids will be included in the flow of school life. These days school supplies can be picked in all different styles & color. However parents budgets are also taken into account with school supplies being reasonably priced but parents are taking the liberty to use last years supplies to save money.
Highlighted here will be kids puzzles that are fun & the fun and educational ones too. Also fun & useful kids alarm clocks. Some kids really have a hard time wakening up on time! Well fix that. Personal hand held kids games, and electronic gifts for kids like computers, mini net books and other computers for social networking for the web.
---
Of course Buy Kids Puzzles For fun & Academic Success.
Things to put in your kids backpack are puzzles that challenge the mind, are fun & unusual looking, and most of all challenging. It could be a type of puzzle that kids rave based on characters ans can have a social effect on other kids - (remember rubix cube in the 80's, virtual pets in the 90's, Pokemon, Yugioh & other card games in the 2000's) I think they have Kids Puzzles like that already based on cartoons, anime & popular kids book series like Sisterhood of The Traveling Pants.

---
Kid's Puzzles.

---
Old fashioned on 3D puzzles are cool after school day activities including constructing dinosaur model bones, or a challenging puzzle building like the empire state building. There are apps for creative puzzles to put in kid backpacks to use on a net book, PSP,iPhone & others. Make sure kids puzzles are easy, fun and entertaining enough for the kid not to get discouraged. Educational shouldn't be overly challenging. But with all that fun kids should also have fun waking up on time. Unfortunately for some kids it would be easier to put a bull horn with a timer into the kids backpacks to get them to school on time.

But I Love these Kid alarm clocks...
Fun is "where it's at!" with these different types of fun alarm clocks. The traditional tic-tock with a child themed background when I was growing up is no more. We have these days cartoon, anime and character themed & very unique kid alarm clock to choose from. It would also be great to attach alarm clocks to our kids backpack; you know their are key chain alarm clocks to do that.

However your child maybe almost a log in the morning. Have you tried 'tocky'? Yeah from the same people who created 'clocky' the awesome hit wonder in alarm clock. It's fun they make a delightful beeping sound ("at lest I think so") & pick your favorite sounds using MP3.

---
Kid's Alarm Clocks.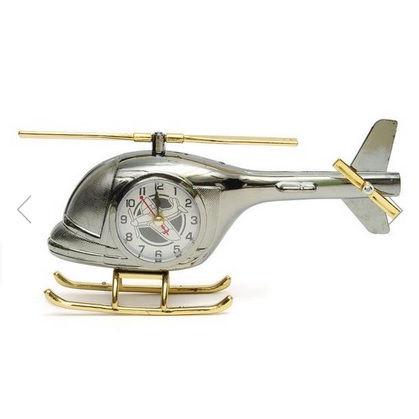 Charminer Helicopter Alarm Clock Despertador Desk Clock Bedside Alarm Clock Watch Christmas Gift For Kids
---
Darth Vader Alarm Clock
---
---
As for your child always remember that a good night sleep (6 to 9 hours for tweens & teens and 7 to 12 hours for younger children) is the best way for your child to be alert & on time is to get enough sleep. Proper sleep also makes your kids smarter so if you want your children to get higher grades & become confident with themselves create bed time routine that are fun and relax them to sleep.

More then Buying your Kids backpacks remember...
That though the economy could be against us right now in buying the gifts for kids we want on their birthday or the up & coming holidays. Making homemade gifts & foods gives an opportunity for kids to be with mom or dad in sharing good moments together. Kids always love kids colors in school supplies unless otherwise stated. Its obvious but many parents especially first time parents.


Home Page

>

Unique Gifts for Kids

> Backpacks
---
Home - Unique Gifts Blog - Gift Ideas - Fun Celebrations - Shops - Birthdays - Weddings - Anniversary - Cats - Dogs - Home Decor - Garden Gifts - Baby Gifts - Gifts for Kids - Christmas - $-Savers - Geri's Specialty Gifts  - Contact Us! -  About Us