Great Unique Easter Gifts for Easter 2011 from some Great Sources!

My Time. My Creations. My Stampendence: A pretty good blog!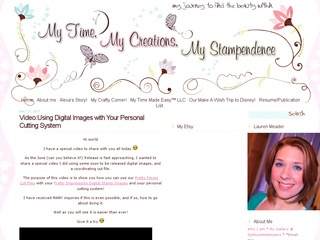 This basket is very cute with unique Easter gifts! And not too hard a unique Easter basket to make. You can personalize your Easter baskets with different patterns of paper,stamps,cut outs,things of your style, color, ect. It's a cute Easter basket to make & you can use any materials & colors as long as you follow the instructions. If you have a Michael's crafts & arts store near you that's great. They also have instruction classes to create any present you need for Easter.

I've been obsessed with Michael's craft store ever since one opened in the Bronx a few years ago! But a store that sell decorative paper gifts & products is great too like Papyrus which I see more frequently in mid town Manhattan. Buying decorative paper in of itself with its beautiful patterns & colors can be great unique Easter gifts. As for the website My Time. My Creations. My Stampendence Great for candies n' stuff. And a beautiful counter centerpiece as well.
Craftzine.com: Transforming traditional crafts?
Another Easter basket to make. Here it is! Its titled Craft:Transforming traditional crafts from http://blog.craftzine.com (now makezine.com/crafts ) 'How-To: Weave a Paper Easter Basket'. A more traditional Easter basket to make but no less very pretty. Be careful to not put too many or too heavy a gift into theses baskets. As I said you make it a personalized Easter basket by picking your own color paper; always follow the instructions. So be creative with your Easter basket ideas, or have colors made separate for the boys Easter baskets & the girls Easter basket to make. Now for me the instructions are a bit more challenging for the kids but worth it if you want to add a uniqueness to baskets.

If the project is too difficult you can bring unique Easter gifts to give out. Or make an easier basket...

As an alternative I have my own quick Easter basket to make for Easter 2011 & years to come. Its very easy.
Here are the supplies you need for my Easter gift basket idea:

a)Small milk carton or little square cardboard boxes.

b)White paint & glue stick (less messy)

c)Easter confetti or glitter or bunches of crafty nick nacks for easter. I prefer the confetti.

d)A hole puncher & colored ribbon any color you like for Easter.

Ok. This Easter basket to make is very easy...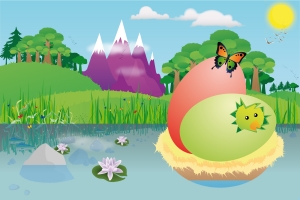 You probably have the ideas already. What makes it special though the kids can have fun with it! Here are the instructions:

1.Take the milk cartons (or any paper box) and paint it all in white. Wait until it drys. (Probably will paint a few before hand if it's for many kids)

2.When they are dry punch one hole on each side of the box for the ribbons.

2a.If the kids are doing the basket: Cut strips of ribbon about 8" long Elmer's Glue Sticks, and plate fulls of confetti: Instruct the kids to cover one side of the box with glue & cover all over with the Easter confetti. Do the same on each side of the box, cover with glue then the confetti making sure not to cover the holes to thread the ribbon through. Cover with confetti until all sides are done. Let dry & then thread ribbon for handles & tie a bow on each end.

Some Nice Gifts to put into the basket!
Some nice Unique Easter gifts would be to create colorful origami eggs & put candies & treats inside. Or go to your favorite gourmet candy store & divide the candies into gifts for your baskets. Non-candy unique gifts could mini craft kits for kid to create things(some pretty colored paper,kid scissors,crayons & glue), or stickers.

You could have conventional gifts like Polly pocket dolls for girls, Hot wheels for Boys, jax & marbles, hand painted spinning tops. How about today's trends electronic pets, puzzles, coloring books, small stuff animals or better stuffed animal you can draw with colorful markers.

For teens & adults it could be something in mini form wherever appropriate. Think of the thins for adults (or teens) and see if they have a mini version of it for the basket.

You name it, whatever is appropriate for the   age of the person receiving the unique Easter gifts.

That's a(n Easter gift) wrap :D for unique Easter gifts.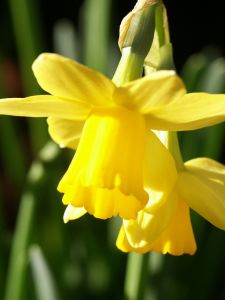 Preparing yourself: You get the idea on instructions for these Easter baskets to make & complete. As I said, consider the colors and materials you will use for your Easter baskets. Remember to have a consistent theme or design; Or don't have a consistent theme or design at all, it's your choice. For a clean finish thread the holes from the outside in the box rather the other way.

Thank you for using these & other ideas for Easter 2011. Hope it was easy and thoughtfully creative. Create your Easter basket for your special unique Easter gifts for everyone this Easter. No one has to spend big bucks on personalized Easter baskets or spend long hours on Easter basket ideas. These baskets also can be a great Easter present to give out.

---
Home Page

>

Gifts Blog
>
Easter Gifts for Easter 2011
Home Page

>

Gift Ideas all year Round
>
Easter Gifts for Easter 2011
---
Home - Unique Gifts Blog - Gift Ideas - Fun Celebrations - Shops - Birthdays - Weddings - Anniversary - Cats - Dogs - Home Decor - Garden Gifts - Baby Gifts - Gifts for Kids - Christmas - $-Savers - Geri's Specialty Gifts  - Contact Us! -  About Us