Buy Unique Bridesmaid Gifts & Make the Gifts Memorable.
Ok. Lets start with unique bridesmaid gifts by starting with the wedding favors to fill the gift boxes with. Sure the gifts for the bridesmaids could be one thing but they are usually a combination of small cool and inexpensive bridesmaid gifts.

For wedding are for great friends,& family members that aren't too serious. The example of my fun cool and inexpensive bridesmaid gifts could be wedding gazoo in colors of white or blue to be blown  for fun when the wedding couple come out.

Or wedding poppers to pop at the celebration; attach a ribbon with a wedding keep sake. There are fun kooky bridesmaid wedding hats or another fun unique bridesmaid favor can be boas too.

Fun is everything in these weddings & everybody can join in the fun. If you want a more sophisticated unique bridesmaid gifts their are wood carved decorative hair clips with those two sticks to hold the girls hair up while they party the night away.

Bridesmaid toe rings, for beach weddings. More on unique bridesmaid gifts & wedding favors to use later.
I Want  to talk Briefly about Wedding gifts for Guests...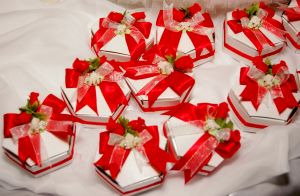 Since some of my visitors mentioned as part of their wedding planning. Ok. A way to make these unique. Here we go...

Creating the creative wedding gifts for guests like a little something in an origami box made with pretty embossed paper. The gift inside could be a charm that represents the brides & groom with the date of their wedding.

Another idea could be a crystal ornament inside of a satin sleeve with embroidered names of the bride & the groom with the wedding date. Lastly if you want more nature oriented themed wedding gifts for guests how about a Japanese themed wood box.

Inside things that remind of the bride & groom with their monogram. Unique, and adding a little sophistication at the same time. These are to give you an idea of the unique twist that can be given to wedding gifts for guests.

More Here are the ideas Given as Unique Bridesmaid Gifts...
We will continue with the themed box ideas using a favorite fabric as an inspiration or foundation for a design say bridesmaid gift bag for instance. The bridesmaid gift bag can be as simple as a satin like this. The way the satin sack could stand up in a beautiful way without going flat & floppy is to iron a firm back facing too the back side of the satin

material and maybe a firm bottom leather like material cut out in a circle to tac to the bottom of the sack for support so it could stand up. You can machine embroidered the holes to put the draw string in. For a professional look you can use a metal hole punching machine. To have metal holes instead of embroidering them in. Your sack could have a monogram of the wedding couple or not. Your choice. And simple too.

Home Page > wedding gift ideas > unique brides maid gifts
Using Your favorite thing...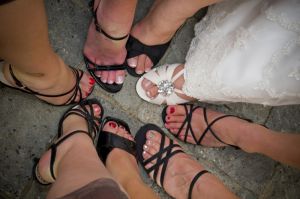 as a theme for unique bridesmaid gifts can also work too. Example: Mini linen floppy hats with jewelry, monogrammed scarves,earrings and other stuff & a scarf as carrying handles. I'm thinking of a summer themed wedding say in the bayou. And the colors of the bayou  in the summer like yellow, white, brownish grey, soft oranges.

Ok. another inspiration. Toe rings: A beach wedding as part of unique bridesmaid gifts is using a soft white silky napkin to put the gifts in & using the beach wedding themed toe rings like a napkin holder to enclose the gifts in & there!

The napkin could be any color as the ring to close the contents into the napkin can be any color or, for real luxury a bejeweled ring. One more idea for unique bridesmaid gifts could be flamingo dancer themed bridesmaid gifts with fans, castanets, boas n' more.

Their are always however gift companies & planners who can arrange all that for you professionally. Not sure cheaply but at least you are assured that they are all done right.


If You can't Figure out what Unique Bridesmaid Gifts to get:
Start with your one favorite object. Or the object that is most sentimental to you like an heirloom. Like a favorite picture with decorative lace around it in your scrap book for example.

With the reaction of your favorite item (like the picture). Maybe small monogrammed picture frames with a velvet ribbon to hang the frame with. Cute buttons made from the same fabric as your wedding dress with the same beading.

A beautiful origami flower keep sake, a beaded necklace. How about a box that opens up like a book with the keepsakes inside.

Hay! How about themed gift boxes that opens up like a book. It can be based on a beautiful flower corsage in a monogram glass box, with beautiful silver wire tiara with mini flowers.

---
Home - Unique Gifts Blog - Gift Ideas - Fun Celebrations - Shops - Birthdays - Weddings - Anniversary - Cats - Dogs - Home Decor - Garden Gifts - Baby Gifts - Gifts for Kids - Christmas - $-Savers - Geri's Specialty Gifts  - Contact Us! -  About Us